About the Stuck to Unstoppable Program

Have you hit a road block ?
Obstacles come at various times in our lives and they create a life of overwhelm and inaction. Some of the situations that cause us to feel stuck include:
Job changes
Divorce
Health issues
Moving
Grief
Family challenges
…and so many more
I've designed a program to help you move forward from Stuck and launch you into Unstoppable. Imagine having energy, drive, motivation and joy again. All that you're craving and just can't seem to achieve. My Stuck to Unstoppable program is designed exactly for women like you.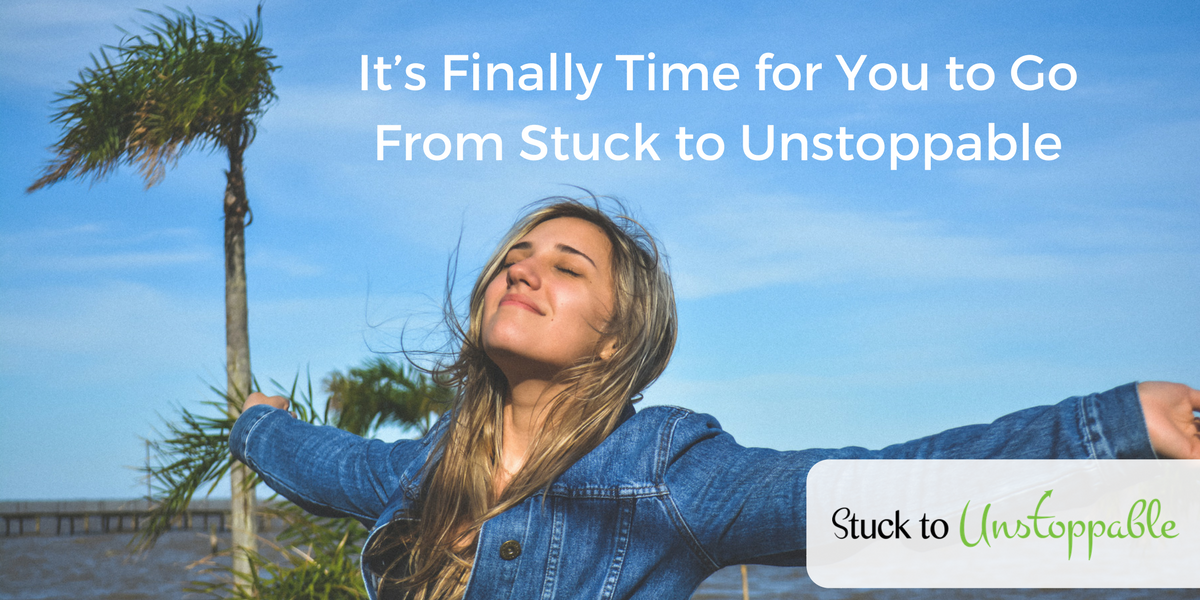 You're not alone in feeling stuck. Recently I did a survey asking women to share with me their biggest challenge. Here are just a few of their responses:
"For the past few years I've been feeling like my life is stuck and I'm going in circles. I don't know what to do. I've looked for answers but found none."
"I'm so frustrated with job hunting and not being able to get to the interview process. Because I feel stuck I'm not motivated to do other tasks that are necessary"
"I am unfocused and seem to just go from fire to fire."
"I have been out of the workforce for 5 years and am struggling with what to do for income. I'm at the end of my financial rope."
I understand. It seems as though the harder you try and the more things you do, the less progress you seem to make. You work hard. You help others. You probably feel that there is more to life than this.
You're right, there is.
What I know from over 18 years of doing this work--and from my own personal journey--is that the only obstacles to your success are your own.
I created this course for you because I know what it feels like to be stuck. After years of struggle and believing I wasn't good enough, I now know what works. I don't want you to waste your time and energy on things that don't work.
If you really want to release the obstacles that have been holding you back, then this course is the ideal next step.
How does this work?
I'm going to give you step-by-step instructions on how to remove whatever blocks have been stopping you and create the life change that you really want.
This course contains the most important and results-producing assignments that my mastermind and coaching clients have used and continue to use to create success and fulfillment and bring about the change they've been longing for.
Here are the steps we will take together so you can move forward into the success and joy you crave:
Week 1: Prepare Yourself for Success
Preparation can mean the difference between success and failure. Having the right foundation is critical for your success. You'll learn how to prepare yourself energetically for what's to come.
At the end of this week you will have completed 5 specific actions to prepare you for ultimate success.
Week 2: Who are you really?
Self-awareness is the first step towards transformation. This week's module helps you dig deep to learn all about your unique self. With this knowledge, you can begin to design the life you really want.
By the end of this week you will have a deeper understanding of your beliefs, conditioning and patterns of behavior that may be sabotaging your efforts. You'll identify your core values and define what success really means to you.
Week 3: Learn and Move On
You can learn a lot from your current situations, especially the ones you want to change. You'll learn techniques to help you identify the gifts and learning opportunities of any situation. When you do this, you will no longer need the situation and you open the door for change.
At the end of this module, you will be able to release emotions that don't feel good and transform any difficult situation into a learning opportunity that is rewarding.
Week 4 Module: What's Been Holding You back?
You'll learn how to identify and transform the obstacles that have been holding you back.
At the end of this module, you will know exactly what steps to take to release whatever obstacles have been standing in your way.
Week 5: Changing and Maintaining Your Vibration
We attract things, people and situations of like vibration. When your vibration is low and you don't feel good you attract things that don't feel good. When your vibration is high, you attract what you want – things that feel good.
You'll learn how to consistently improve your vibration so that you attract what you want.
At the end of this module you will know what energizes you and what drains you and you will understand how to increase your vibration on a daily basis.
What are the results?
This program is getting phenomenal results for women who are stuck. Here's some feedback from a few.